Are you looking to add a touch of magic and whimsy to your child's room? String lights can be the perfect solution! Not only do they provide soft and gentle lighting, but they also create a cozy and enchanting atmosphere that will delight your little one.
In this article, we will explore the best string lights for kids' rooms, ensuring that you find the perfect option to make your child's space truly special.
Best String Lights for Kids Room
If you are wondering what lights to buy for your kid's room, You will be very glad about our string lights for the kids' room that we gonna discuss in this article. We made a list of the best string lights for kids' rooms for you.
Homeleo Star string lights for kids' room
YOLIGHT Butterfly string lights for children's rooms
CoziTech Fairy Lights For Girl's Room
XINKAITE Teenage Bedroom String Lights
BECCOBEAT Lights For Boy's Bedroom
HOOLIGHT String Lights For Kid's Room
1. Homeleo Star String Lights For Kids Room
This Homeleo Star string light for kids room features 50 LEDs with enough brightness and is 25 ft long, perfect to create a happy fantasy and decorative lighting space. The Wire between the first LED light and the battery box is about 13 ft, it can be reached in most places you want. Powered by 3 x AA batteries (not included), easy to operate, and portable, it's great for decorating your home, garden, room, patio awning, or party.
Create a magical atmosphere in your home with these beautiful star-shaped string lights. These lights are an easy way to decorate for the holidays, birthday parties, and more. The remote control makes it convenient to control the lights from anywhere in the room.
The star-string lights make a magical lighting effect in your room. Select your favorite lighting color and modes and enjoy the glow! Choose between one of 8 different colors with 3 light modes: steady on, flash, or strobe. 
Features:-
No tangled wires, no mess, and no hassle.
Spreading a warm, romantic, and soft atmosphere.
Ultra-bright, 50 LEDs, multicolor, star-like lights
Durable with a 25′ long, cloth-covered cable
Versatile for indoor or outdoor decorating
Conveniently move the light up and down.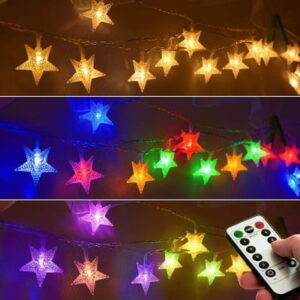 ---
2. YOLIGHT Butterfly String Lights For Children's Rooms
YOLIGHT Butterfly string lights for kids' room is 9.8 feet long with 20 multicolor led butterflies, which can be mounted on walls, windows, or any other place to create a magical lighting experience. It contains a high-quality copper wire that is thin and flexible as well as durable and safe to touch without risk of burns
Butterfly string lights for kids rooms are specially designed for children's rooms. They can be used for bedroom, night light, or festive atmosphere light. With 5V low voltage and plug cords included, they are safe enough to use for kids. Various lighting modes give kids full control over their own lighting environment. Set the lights on one solid color or one of the 8 flash modes.
The butterfly string lights are connectable, each set can be connected up to 3 sets. With remote control, this light easily turns on/off and adjusts the brightness. These starry lights can also be timed on for 6 hours and fully charged after being programmed off for 18 hours.
YOLIGHT 6.6ft LED butterfly curtain string lights for kids bedroom and nursery room decor. Each LED bulb is individually controlled to create a gorgeous gradation effect. 8 different lighting modes from stable to flash to satisfy your various lighting requirements. Easily control the lights with a 3-key remote, even you can control up to 3 sets of our lights simultaneously.
Features:-
Low voltage, safe and reliable
8 lighting modes with memory function
Waterproof, it can be used indoors and outdoor
Energy-efficient LED lights use up to 80% less energy than incandescent bulbs.
Elegantly hung from the curtain rod with the included suction cup
The lighting string includes a remote control for ease of operation.
Smart timer mode, the lights will be automatically turned off after 3 hours of working
---
3. CoziTech Fairy Lights For Girl's Room
CoziTech's curtain fairy lights are made with premium quality, 7 feet long (2 M), and 20 star-shaped LEDs. Our dimmable twinkle lights have a microcontroller that provides 6 steps of brightness and memorizes the latest setting. For kids, it's perfect as a night light or brings a nice colorful trippy glow to your girls' room. It can be easily installed anywhere you like at home, at weddings, parties, and at holiday season decor.
Fairy Lights For Girls Room with upgraded in-line dimmer switch provides 6 steps of brightness and could memorize the latest setting of brightness, super convenient and easy to use. Perfect for finding comfort in a beautiful ambiance as a night light, or bringing a nice colorful trippy glow to your girls' bedroom.
Let your little princess change the ambiance in her room at will! She can easily turn on/off and adjust the brightness of these ombre indoor fairy lights with the handy In-Line dimmer switch. These string lights for kids' room features 6 steps of brightness and could memorize the latest setting of brightness. The veil fabric is lightweight and drapes easily, no need for any other tools or accessories to hang it up.
These magical flower fairy string lights for kids' rooms are great for your girls' room or outdoor decorations. It comes with a USB plug, which supports both plug-in and battery power, so you could decorate anywhere you like! The colorful fairy lights will illuminate the dark corners of your girls' room, and create a warm ambiance.
Features:-
Ideal for decorating girls' room
String lights are made of silicone
It is waterproof and easy to clean.
Great for both indoor and outdoor use!
They are very comfortable and soft so that
You can cut it into different shapes to decor your room
---
4. XINKAITE Teenage Bedroom String Lights
XINKAITE Teenage Bedroom String Lights Add a mystical charm to your home with these sparkly star-shaped string lights. The charming starry lights are much brighter than other shape string lights and create a magical lighting experience for you. 3x AA Batteries Required (Not Included) The star bedroom lights require 3x AA batteries operated and not included in the package. Totally green energy-saving and environmentally friendly, high energy conversion rate.
The LED string light is made of High-Quality Insulated Copper Wire and LED gives a fabulous charming glow, has a low heat emission, and remains cool after many hours of usage. These string lights use a DIRECTIONAL mode which will not shoot the light in all directions, the light focuses on one area to provide a stronger illumination.
Decorate your home with the 100-LED String Light. These low-wattage LED lights are energy-efficient yet produce a beautiful glow in any space of your home. Customize your lighting with 3 lighting modes: on, flash, and off. Best of all, this string light has a battery-operated remote for ease of use.
Add a touch of fantasy to your room with this great value string light! The curtain starry string lights for kids' rooms are very easy to install and safe for children's window decoration. The warm white micro fairy lights are protected by an insulated clear solid platinum wire, so your fingers will not be burned even if you accidentally touch them.
Features:-
Can be bent and twisted as you like.
Safe for children's bedroom and nursery decoration.
Easy to install and safe for children's window curtain decoration.
Each string light has 20 little stars with a 3.2″ diameter. They are evenly spaced apart.
Simply press the button to turn it on, turn it off, and switch between the twinkling modes.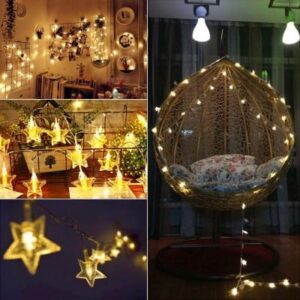 ---
5. BECCOBEAT Lights For Boys Bedroom
BECCOBEAT Lights curtain is one of the most beautiful ways to decorate a bedroom for both boys and girls. (Simple to use) Just plugin and do not need any other equipment, it can be hung on the wall, window, or ceiling, making your festival more romantic.
Hang these battery-operated LED Curtain String Lights behind your headboard. They will match almost any decor and add to the aesthetic of your bedroom by creating a relaxing atmosphere. The curtain string lights can be used as room decor, party decorations, or eye-catching focal points.
Your little one should have a place in the home that belongs to him alone. It is important for young children and teens to have a fun, bright, and colorful environment. You can use these lights on the white of your child's wall or drape them over their bed, this way you can create a dreamy and romantic atmosphere for your kids.
BECCOBEAT provides beautiful string lights for kids' rooms, and the blue and purple cozy atmospheres of the dream lights add a touch of romance to your bedroom. These lights are dimmable, so you can use them to light up your bedroom at any time, especially when you prepare to go to bed together or watch a movie or go out on a date. 
Features:-
Just one click to choose the mode you want to light up your room.
Beautiful & Creative. Perfectly decorate your room.
Save energy and money. No need to replace bulbs.
Modern LED design: LED lights are used instead of traditional light bulbs.
One remote can control multiple lights (up to 16 sets).
---
6. HOOLIGHT String Lights For Kids' Room
Add an extra bit of sparkle to the room with our unicorn string light. The cute fairy lights of the unicorn is a soft glow and a long life. The HOOLIGHT string lights feature 10 cute unicorns that emit a soft glow. It includes 2m of clear cable with a battery box and uses 2 AA batteries (not included). This toy is ideal for decorating children's bedrooms, windows, and parties…
Inspire imaginative play and creativity with these colorful Unicorn LED fairy lights. The Unicorn LED string lights are the perfect gift for girls of all ages. The lights include 1 unicorn control, 30 LED bulbs, and 30 unicorn charms to decorate your room with. Hang them on the wall, drape them over furniture, or even use them as a fun night light.
HOOLIGHT string lights for kids' rooms are cute and pretty, with small white unicorn shells and 5.9 ft long strings. The cute fairy lights of unicorns is a soft glow and a long life (10-20 years), so you can use them for a long time without worrying about replacing them.
Features:-
Durable and hard to break
Last for a long time and save energy.
The cute unicorn light is a soft glow and has a long life.
Unique unicorn design, bright colors, cute and lovely.
Provides warm light, is safe, portable, and easy to use
Easy to use, just press the button to turn on or off
---
Buyer Guide:
Factors to Consider Before Choosing String Lights for Kids' Room
Before purchasing string lights for your kids' room, consider the following factors:
Safety: Opt for string lights that meet safety standards, ensuring they are child-friendly and pose no electrical hazards.
Durability: Choose lights made of high-quality materials that can withstand the wear and tear of children's activities.
Power source: Decide between battery-operated or plug-in string lights based on convenience and accessibility.
Design and theme: Select lights that align with your child's interests, whether it's fairies, animals, space, or any other theme.
Length and coverage: Determine the length of the string lights based on the area you want to cover in the room.
Ease of installation: Look for lights that are easy to install and can be adjusted according to your desired arrangement.
Benefits of String Lights for Kids' Room
String lights offer numerous benefits when incorporated into a child's room. Here are a few advantages:
Enhanced ambiance: String lights create a warm and inviting ambiance, perfect for bedtime stories or relaxing before sleep.
Improved sleep: Soft and gentle lighting from string lights can help soothe children and improve their sleep quality.
Decorative element: String lights serve as an attractive decor piece, adding charm and character to the room.
Stimulates creativity: The enchanting glow of string lights sparks children's imagination and encourages creative play.
Nighttime companion: String lights can provide a comforting presence during the night, reducing fear or anxiety.
How to Install String Lights in Kids' Rooms
Installing string lights in a kids' room is a straightforward process. Follow these steps:
Determine the desired placement of the string lights.
Ensure there is a power source nearby or use battery-powered lights.
If using plug-in lights, discreetly arrange the power cord to prevent tripping hazards.
Securely fasten the lights using adhesive hooks or clips.
Test the lights to ensure they are working correctly.
Safety Tips for Using String Lights in Kids' Rooms
While string lights are generally safe, it is essential to prioritize safety when using them in kids' rooms. Here are some safety tips to consider:
Choose lights that have been tested and certified for safety.
Keep string lights out of reach of young children to prevent any accidents.
Avoid placing string lights near flammable materials or in direct contact with the fabric.
Regularly inspect the lights for any signs of damage or wear and tear.
Turn off the lights when not in use or during bedtime to conserve energy and prevent overheating.
How do you hang string lights in a kids bedroom?
To hang string lights in a kids' bedroom, follow these steps:
Plan the layout: Decide where you want to hang the string lights in the room. Common options include along the walls, around the bed frame, or across the ceiling. Consider the desired lighting effect and the safety of the placement.

Gather the necessary materials: You will need string lights, adhesive hooks or clips, a ladder (if needed), and optionally, extension cords or cord protectors.

Clean the surface: Ensure the area where you'll be attaching the adhesive hooks or clips is clean and dry. Wipe down the walls or any other surface where the lights will be hung.

Attach the adhesive hooks or clips: Place the adhesive hooks or clips at regular intervals along the chosen surface. Make sure to leave enough space between each hook or clip to accommodate the length of the string lights.

Test the placement: Before hanging the lights, test the layout by temporarily draping the string lights across the hooks or clips. This will allow you to make any adjustments or modifications to the arrangement.

Hang the string lights: Once you are satisfied with the placement, carefully drape the string lights over the hooks or clips. Start from one end and work your way across, securing the lights in place as you go.

Secure loose sections: If certain sections of the string lights are hanging loosely or drooping, use additional hooks or clips to secure them to the surface. This will help maintain a neat and tidy appearance.

Plug in the lights: If using plug-in string lights, ensure that the cord reaches the nearest power outlet. Use extension cords or cord protectors if necessary. Avoid running the cords across walkways to prevent tripping hazards.

Adjust the lighting: Once the lights are securely hung, turn them on to see the desired lighting effect. Make any necessary adjustments to the placement or arrangement to achieve the desired ambiance.
You can also read related posts:
Conclusion
Incorporating the best string lights into your kids' room can create a captivating and magical environment where they can dream and play. Choose from a variety of options such as fairy lights, animal-shaped lights, or DIY lights to match your child's preferences and room decor.
Remember to prioritize safety, consider the installation and maintenance tips, and let your creativity shine. With the right string lights, you can transform your child's room into a whimsical space filled with wonder and joy.
---
FAQs
Are string lights safe for kids' rooms?
Yes, string lights designed for kids' rooms are safe to use. It is important to choose lights that comply with safety standards and keep them out of reach of young children.
Can string lights be used as night lights?
Yes, string lights can serve as a gentle night light in a kids' room, creating a soothing and comforting environment.
How do I choose the right length of string lights for the Kid's room?
Measure the area where you want to install the lights and choose a length that provides adequate coverage without excess or shortage.