Wearable LED lights for clothing have become increasingly popular in recent years. These innovative accessories not only add a touch of style to your outfits but also enhance your visibility in low-light conditions, making them ideal for various activities such as parties, concerts, cycling, and running.
In this article, we will explore the best wearable LED lights available in the market that can elevate your fashion game while keeping you safe and visible.
Best wearable led lights for clothing
Wearing wearable led lights is great fun and helps to light up any party. The accessories can be used to light up jackets, hats, and anything else that you might have. They are great items of clothing and are actually very useful as well. here's our list of useful best wearable LED lights for clothes.
1. TDLTEK Wearable Led Lights For Clothing
TDLTEK Wearable Led Lights For Clothing is a flexible electroluminescent wire that has the property of emitting light along its entire length when an AC signal (usually 300 V to 500V) at an operating frequency of between 100Hz and 300 Hz is applied to it.
It can be used in weather-durable applications; is water-resistant, and is suitable for outdoor use. It is ideal for Parties, Burning Man, Halloween, Raves, Costumes & Decorations.
It can also be used in cars and on bicycles. The EL wire requires a Controller to work. It includes a 3-mode battery pack controller with the purchase of this EL wire kit. It includes a special connector that allows you to connect multiple EL wires together. Each EL wire set comes with one color of 15 Feet EL Wire (4 Pcs Total), 1x AAA Battery Holder, and Instructions.
TDLTEK led strip lights for clothing are made with a durable PVC jacket which makes the wire waterproof, easy to hide, and hard to break. Low power consumption, lightweight and small volume make it easy to use EL wires in any project you can imagine.
Features:-
Transparent, flexible, and durable
Create a bright and colorful atmosphere
Three modes: Slow Strobe, Fast Strobe, Steady On
The most popular EL wire color – Blue, Green, Red
3M adhesive tape backing
Powered by 2 x "AA" batteries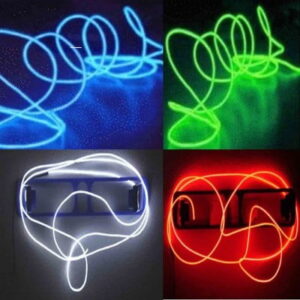 ---
2. ANGMLN Copper Wire Fairy Lights
ANGMLN Copper Wire Fairy Lights for cloth pack includes 8 different colors and 2 different modes, all in one box. The aesthetic, simple, and modern style design can blend with most home decor styles.
Use them to decorate a party, festival, wedding, or everyday home decor. Copper strings can be bent freely to meet your DIY use. Suitable for creating a romantic atmosphere (anywhere you want).
It is waterproof, so the lights will not be damaged and the color will not be faded when the lights are used underwater. The copper wire is flexible and you can bend it in any way you like. The wire is thin and soft, thus it's easy to use in craft projects. Besides, there are 6 batteries for free which will save you money.
A combination of nature's beauty and modern illumination, this Copper Wire Fairy light is going to be a big hit at your next party or wedding. It adds great color and pops of light to centerpieces without being too bright. It's also great for lighting up rooms because it isn't overwhelming, yet provides a soft ambiance. Whether you're using it inside or out, they're perfect for creating a magical scene!
Features:-
Create the perfect ambiance for your home, wedding, party, or holiday.
Make it a perfect gift for kids and family, friends, lovers, and so on.
Battery-powered, it can be used anywhere at any time.
Connect multiple strands of lights together with the connector plugs (included)
Each light has a switch on the battery box to turn it on/off.
Waterproof, but don't use it on a rainy day.
---
3. TOPIST LED Lights For Hair
The Topist LED Hair Extensions are a fun and easy way to add some flair to your hair. These light-up Hair Extensions have an easy on-and-off switch, allowing you to turn them off or on whenever you need to! Clip these LED Hair Extensions into your hair and be the center of attention at any party with these flashing lights.
The Topist battery-operated led lights for clothing are suitable for all sorts of events, whether it is a festival or birthday party, or rave parties, LED glasses are perfect to make you more attractive. With Topist flashing LED braid hair, it creates a mysterious effect and makes you the center of attention at the party. 4 light modes: Quick, Slow, Flashing, and Superflash.
Topist LED Lights Hair Extension is a synthetic hair extension with built-in colorful LED Light. Many different colors are for you to choose from, the color combination of the colorful lights creates a different light effect. The perfect idea that fits women and girls to wear it at any unique occasion, such as a night rave party, Christmas, a nightclub bar, a dancing party, and a colorful vivid Halloween. Add fun and happiness to your family time with your cute kids.
With 3 LED color modes, there are 6 different combinations of flashing that these light-up hair clips can produce. Simply press the button on the back to change the mode. These LED hair accessories are sure to make any outfit the life of the party. Great for any nighttime event or party!
Features:-
Eye-catching and attention-grabbing
Perfect for any nighttime event
Comes in 12 different colors
Made of high-quality and durable materials.
Simply clip it onto your hair, with an ON / OFF switch easily to turn it off and on.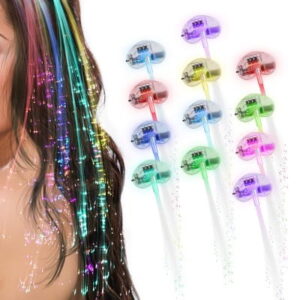 ---
4. Mandiq Pack battery operated led lights for clothing
Mandiq Pack Fairy Lights are designed to decorate your favorite items, giving you easy access to any accessory. The flexible silver wire allows you to bend and twist the light string into beautiful shapes such as stars and flowers, creating a more cheerful atmosphere. When they are placed in a transparent box, they can be used as a night light, a table lamp, or an ornament.
Fairy lights are a quick and easy way to bring some magic into your home. These lights are made of flexible silver wire that can be bent easily around trees, plants, signs, furniture, and almost everything else. Makes the perfect gift for a friend or yourself.
There are 10 feet 30 bulbs of each string on the wire, with a distance of 8 centimeters between two lights, which can be wrapped around Christmas trees or other objects or even garlands. It looks like fairy lights. In addition, after opening the switch, it will continue to shine for 48 hours. There are several colors available in this package: purple, white, and multicolored.
Mandiq battery-operated led lights for clothing are ten-foot-long with 30 LEDs, and silver wire and have a bendable design. The led string lights and battery box of the battery-operated decorative light are waterproof (the battery box is not waterproof). You can use it outdoors easily and enjoy your decoration day or night. In addition, these decorative lights also include remote control, which allows you to conveniently turn on/off the led fairy string lights.
Features:-
Inexpensive: Fairy lights are the perfect way to add beauty to any home while keeping the budget under control.
Flexible: It is lightweight but very sturdy.
Beautiful: It has a wide selection of colors and lighting modes, so you can create the perfect atmosphere for every occasion.
Durable: These fairy lights are made of sturdy, waterproof material.
Easy to use: The lights are also cordless, so you don't have to worry about tangled wires.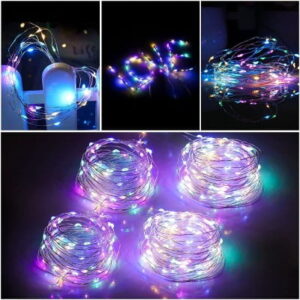 ---
5. HDSHIMAO
Fairy Lights For Mason Jars
HDSHIMAO Fairy Lights For Mason Jars are the perfect wedding decorations. This is a 3-string set of battery-operated mason jar fairy lights with copper wire that goes around the perimeter of your mason jar and a small and soft wire that goes into the lid so that you can insert it into your glass.
Putting these micro fairy lights in a mason jar and setting them on your counter or shelves is an easy way to add a soft and pretty sparkle to any room. If you want to decorate your kid's room, these lights are an excellent way to keep them entertained.
HDSHIMAO Fairy Lights For Mason Jars bring you a lovely warm mood, which will make your house looks like a fairy kingdom. They are waterproof and aesthetically designed, with a wonderful effect of an infinite number of twinkling stars, the holidays will be much more interesting and beautiful. Any space can be decorated easily with these lights, either indoors or outdoors.
With the waterproof design, you can use them in any place you like, even at a party in the rain. HDSHIMAO Fairy Lights for mason jars can fit almost all installations, whether it's a small kitchen cabinet or a large terrace, because of its 5-6m length, With an estimated 21 hours of battery life under normal use and if you like to turn them off occasionally when not in use these seem pretty good.
Features:-
Wide usage: Perfect to decorate, anywhere indoors or outdoors with beautiful effect.
Long battery life: 21hours continuous battery life and longer if you turn on/off it with breaks.
Easily operated: Easily operated by batteries, 2 x CR2032 included, easy to be replaced
Easy to hide and handle: The battery pack is light and small in size, easy to hide and handle.
Inexpensive and high quality: These fairy lights with high-quality lights and good price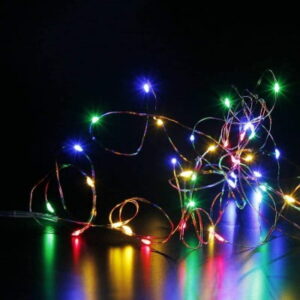 ---
Buyer Guide:
Why Wearable LED Lights for Clothing Are Trending
Wearable LED lights have become a popular fashion trend due to their ability to make a bold statement and capture attention. These lights are often used in concerts, parties, and other social events, allowing individuals to express their creativity and personality through their clothing.
With their vibrant colors and eye-catching patterns, wearable LED lights have revolutionized the way we think about fashion and style.
Why Choose Wearable LED Lights?
Wearable LED lights offer a range of benefits that make them a must-have accessory for anyone looking to add a unique flair to their clothing. Here are a few reasons why you should consider incorporating wearable LED lights into your wardrobe:
Style and Versatility: LED lights come in various colors and can be customized to match your personal style. Whether you prefer a subtle glow or a vibrant light show, these accessories allow you to express your creativity and stand out from the crowd.
Enhanced Safety: With wearable LED lights, you can improve your visibility during nighttime activities, such as jogging or cycling. The bright illumination ensures that others can see you, reducing the risk of accidents and keeping you safe.
Fun and Entertainment: LED lights add an element of fun and entertainment to any event or gathering. You can synchronize the lights to the beat of the music or choose different lighting patterns to create a captivating visual display.
Factors to Consider
When choosing the best wearable LED lights for clothing, there are several factors you should consider. These factors will help you find the perfect LED lights that suit your needs and preferences. Here are some essential considerations:
Battery Life
One crucial aspect is battery life. You want LED lights that can last for an extended period, especially if you plan to use them for long events or activities. Look for lights with a reliable battery that offers sufficient runtime on a single charge.
Brightness Levels
The brightness levels of wearable LED lights can vary significantly. Consider your requirements and the environments in which you will be using the lights. Some lights offer adjustable brightness settings, allowing you to customize the illumination according to your needs.
Design and Versatility
The design and versatility of the LED lights play a vital role in their usability. Look for lights that can be easily attached to different types of clothing, such as shirts, jackets, or accessories. Additionally, consider whether the lights offer various lighting modes or color options to match your desired style.
Waterproofing
If you plan to use wearable LED lights in outdoor activities or during rainy conditions, it's crucial to choose lights that are waterproof. This feature ensures that the lights remain functional even when exposed to moisture.
How do you make LED lights for uniforms?
Certainly! Here's a step-by-step guide on how to make LED lights for uniforms:
Gather the Materials: Start by collecting all the necessary materials, including LEDs, circuit boards, resistors, capacitors, and wiring. Choose LEDs in the desired color and brightness for your uniform.
Design the LED Light System: Determine where and how you want to place the LEDs on the uniform. Consider visibility, functionality, and aesthetics during this design phase.
Assemble the Components: Solder the LEDs, resistors, capacitors, and wiring onto the circuit board according to your design. Take care to ensure secure and proper connections.
Connect the Power Source: Decide on the power source for the LED lights. It can be batteries, rechargeable cells, or an external power supply. Integrate the power source into the uniform, considering comfort and mobility.
Perform Quality Control: Check each LED light for proper functionality, color, and intensity. Inspect the electrical connections, solder joints, and circuit boards for defects. Make necessary adjustments or replacements as needed.
Integrate the LED Lights: Sew or attach the LED lights onto the uniform, following your design. Conceal the wiring within the fabric or route it strategically for a clean appearance.
Ensure Maintenance and Care: Provide guidelines for cleaning and maintenance to users. Regularly inspect the uniform for loose connections or malfunctioning LEDs. Handle and store the uniforms properly to prevent accidental damage.
By following these steps, you can successfully create LED lights for uniforms. Remember to prioritize safety, functionality, and user comfort throughout the process.
How do you attach fairy lights to clothing?
Fairy lights have become increasingly popular for adding a touch of whimsy and elegance to clothing. Whether you want to illuminate a dress, shirt, hat, or any other garment, there are various methods available to attach fairy lights securely. By following the instructions below, you can ensure that the lights stay in place throughout the event, while still providing a captivating and enchanting glow.
Safety precautions
Before attaching fairy lights to your clothing, it's important to prioritize safety. Here are a few safety precautions to keep in mind:
Only use low-voltage fairy lights that are specifically designed for clothing.
Ensure that the lights are in good working condition, without any exposed wires or damaged bulbs.
Avoid attaching lights to delicate or flammable fabrics that may pose a risk.
Never attach lights near water or in wet conditions.
Be cautious of the weight of the lights and choose a method that will securely support them without causing discomfort.
Method 1: Sewing
Sewing is a reliable and durable method to attach fairy lights to clothing. Follow these steps to sew the lights securely:
Gather the necessary materials: You will need a needle, thread, and of course, the fairy lights.
Plan the placement of the lights: Decide where you want the lights to be positioned on your clothing. It's a good idea to mark these spots lightly with a pencil.
Secure the lights with a thread and needle: Start sewing from the backside of the fabric, passing the needle through the first light and then through the fabric. Repeat this process for each light, ensuring they are evenly spaced and securely attached.
Reinforce the attachment points: Once you have sewn all the lights, go back and reinforce the attachment points with additional stitches. This will provide extra security and prevent the lights from coming loose.
Method 2: Using adhesive tape
Using adhesive tape is a quick and easy method to attach fairy lights to clothing. Follow these steps to attach the lights effectively:
Choose the right type of adhesive tape: Opt for double-sided fabric tape or adhesive tape designed for use with clothing. Avoid using strong adhesive tapes that may damage the fabric.
Attach the lights to your clothing using the tape: Cut small pieces of tape and stick them to the back of the lights. Then, press the lights firmly onto the desired areas of your clothing.
Test the adhesion and make adjustments if needed: Gently tug on the lights to ensure they are securely attached. If any lights feel loose, apply additional tape to reinforce the adhesion.
Method 3: Clips and fasteners
Using clips or fasteners provides a flexible and removable option for attaching fairy lights to clothing. Follow these steps to use clips or fasteners effectively:
Select suitable clips or fasteners: Look for small clips or fasteners that can hold the lights securely. Consider using clothespins, mini-clamps, or even small binder clips.
Attach the lights to the clips or fasteners: Carefully place each light within the clip or fastener, ensuring they are held firmly in place.
Secure the clips or fasteners to your clothing: Position the clips or fasteners onto the desired areas of your clothing and clamp them down to secure the lights.
Method 4: Safety pins or bobby pins
Safety pins or bobby pins can be a practical choice for attaching fairy lights to clothing. Follow these steps to use safety pins or bobby pins effectively:
Gather safety pins or bobby pins: Choose safety pins or bobby pins that are sturdy and long enough to hold the lights.
Attach the lights to the pins: Carefully thread each light through the loop of a safety pin or bobby pin, making sure it is securely fastened.
Secure the pins to your clothing: Position the pins onto the desired areas of your clothing and fasten them securely, ensuring the lights are well-supported.
Method 5: Velcro straps or fabric adhesive
Velcro straps or fabric adhesives provide a convenient and adjustable option for attaching fairy lights to clothing. Follow these steps to use Velcro straps or fabric adhesive effectively:
Obtain Velcro straps or fabric adhesive: Purchase Velcro straps or fabric adhesive that is suitable for attaching to clothing.
Attach the lights to the straps or adhesive: Affix the lights to the Velcro straps or apply fabric adhesive to the back of the lights, ensuring they are held firmly in place.
Fasten the straps or adhesive to your clothing: Position the Velcro straps or adhesive onto the desired areas of your clothing and secure them tightly.
Method 6: DIY wireframes
Creating a wireframe allows you to design and customize the placement of fairy lights on your clothing. Follow these steps to create a DIY wireframe:
Create a wire frame for the lights: Bend a thin, flexible wire into the desired shape and size. This could be a heart, star, or any other design you prefer.
Attach the lights to the wireframe: Securely wrap the lights around the wireframe, ensuring they are evenly distributed and tightly wound.
Secure the wireframe to your clothing: Use thread, adhesive, or any other appropriate method to attach the wireframe to your clothing, making sure it is stable and well-supported.
How to Style Wearable LED Lights
Styling wearable LED lights can be a fun and creative process. Here are a few tips to help you incorporate LED lights into your outfits effectively:
Matching with Different Outfits
Wearable LED lights can be easily paired with various clothing items to create a cohesive look. For example, you can attach LED strips to the edges of your favorite jacket or use LED shoelaces that complement the color of your sneakers. Experiment with different combinations to find the perfect match for your attire.
Choosing the Right Colors
Consider the overall color scheme of your outfit and choose LED lights that complement or contrast with it. For instance, if you're wearing a predominantly black ensemble, opt for LED lights in vibrant colors like red, blue, or green to create a striking visual contrast.
Conclusion
Wearable LED lights for clothing offers a unique and fashionable way to express your style while ensuring visibility and safety.
By selecting the right LED lights and incorporating them into your outfits thoughtfully, you can make a lasting impression at parties, events, or nighttime activities. Embrace the versatility and creativity that wearable LED lights provide and let your fashion shine!
You can also read related posts:
---
FAQs:-
Are wearable LED lights safe to wear?
Wearable LED lights are generally safe to wear when used as intended. However, it is essential to follow the manufacturer's instructions and exercise caution, especially when it comes to handling batteries and electrical components. If you have any concerns or specific health conditions, consult a healthcare professional before using wearable LED lights.
Can I customize the lighting effects of wearable LED lights?
Yes, many wearable LED lights offer customization options, allowing you to choose from different colors, patterns, and lighting effects. Some products even come with smartphone apps or remote controls for convenient customization.
Can I wash clothing with embedded LED lights?
It depends on the specific product and its care instructions. Some LED clothing items can be washed, while others may require spot cleaning or removing the LED components before washing. Always follow the manufacturer's guidelines for cleaning and maintenance.
How long do the batteries of wearable LED lights last?
The battery life of wearable LED lights varies depending on factors such as brightness levels, lighting effects, and usage patterns. Some lights can last for several hours, while others may require more frequent battery replacements.
Are wearable LED lights waterproof?
While some wearable LED lights are water-resistant, not all of them are fully waterproof. It is important to check the product specifications or consult the manufacturer to determine the level of water resistance.